Workin is a fitness coaching tool that offers unlimited free workout sessions. Users are able to create their own workout routines based on their needs. Workin's primary target users include those who are not familiar with technology or even they are completely new to the digital world and they are feeling lost in the pool of online platforms. Workin helps users to improve their lifestyle and hit their goals anytime, anywhere with personalised fitness plans.
Every day, more and more new users are entering the digital world and using technology for their own benefit. Technology can help many aspects of people's lives including changing their lifestyles and improving their fitness and overall health. On the other hand, the amount of information that new users have to deal with could be overwhelming at times, having as result, for them to quit a task like completing an online workout session.
Design a fitness coaching tool that will help people that are new to the digital world to improve their fitness and overall health by providing them with unlimited free classes and tailor-made fitness plans.
UX designer leading the app and responsive website design from conception to delivery.
Conducting interviews, paper and digital wire-framing, low and high-fidelity prototyping, conducting usability studies, accounting for accessibility, iterating on designs, determining information architecture, and responsive design.
In order to better understand the users I'm designing for, I conducted interviews and created empathy maps. Through the above, a primary user group has been identified as people that are new or have limited interaction with technology, they want to improve their lifestyle but they don't really know where to start with. This user group confirmed initial assumptions about the Workin fitness coaching platform.   
Lærke is a young actor who has also been diagnosed with dyscalculia and is looking for a fitness coach platform to join yoga classes online because due to their busy schedule is difficult for them to visit a yoga studio.
Gillian is a small flower shop owner who wants to work out at home because she wants to lower her cholesterol levels.
An audit of a few competitors' products provided direction on gaps and opportunities to address with the Workin online fitness platform.  
I did a quick ideation exercise to come up with ideas for how to address gaps identified in the competitive audit. My focus was specifically on grouping classes and workouts based on parameters such as duration, fitness level and equipment needed. 
Moving from paper to digital wireframes made it easy to understand how the redesign could help address user pain points and improve the user experience. These designs focused on the users' ability to complete a task following different paths.
To prepare for usability testing, I created a low-fidelity prototype that connected the user flow of selecting a workout as a guest user.
These were the main findings uncovered by the usability study:
Users need a way to use the app without having to create an account.
Users want to be able to choose between an email and text message verification when signing up. 
Users are keen on checking the workouts that are included in the full session. 
Based on the insights from the usability studies, I applied design changes like giving users the option to use the app as guests.
Additional design changes included a clear breakdown of the exercises that are included in a full workout.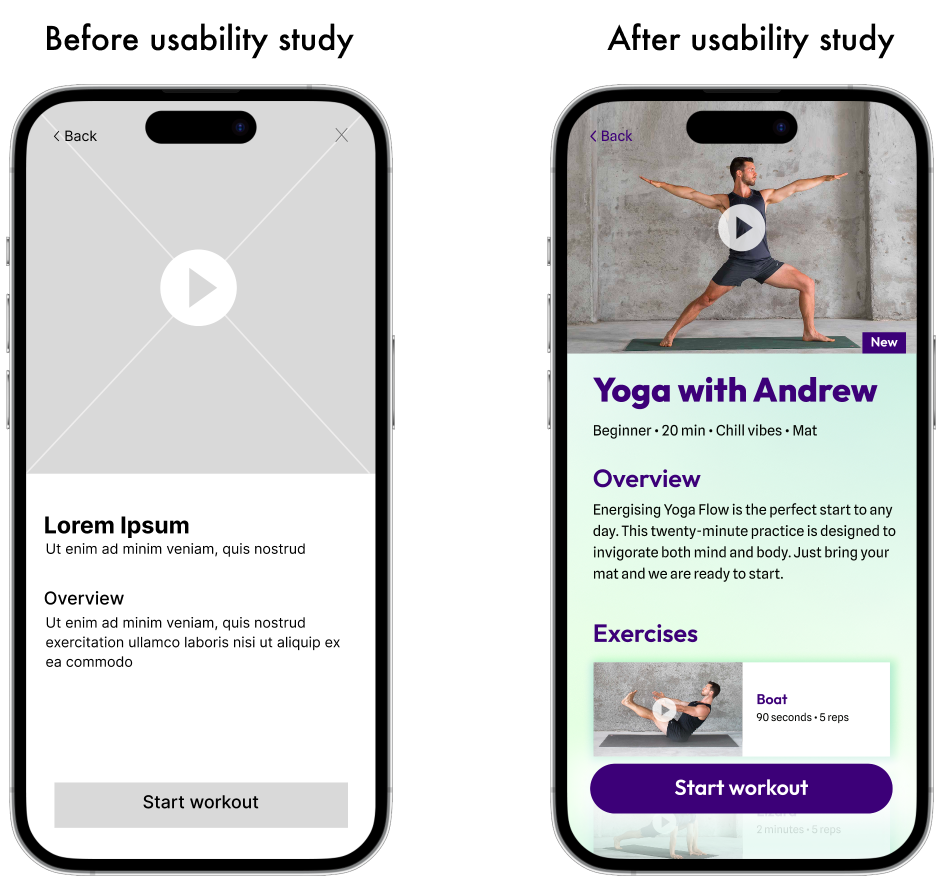 The high-fidelity prototype followed the same user flow as the low-fidelity prototype, including design changes made after the usability study.
Accessibility considerations
Different font sizes and variations have been used throughout to ensure a clear hierarchy.
Texts and colours have been checked to make sure they successfully pass the Web Content Accessibility Guidelines' standards.
All UI components with the same functionality have been checked to make sure they are consistent.
After completing the designs for the Workin app  I moved on to the responsive website. I started by creating the sitemap which I used as a guide to ensure a cohesive and consistent experience across devices.
The designs for screen size variation included mobile, tablet, and desktop. I optimised the designs to fit the specific user needs of each device and screen size.
Late user testing confirmed that the app and the website addressed all of the major pain points and that users could easily complete the main user flow on various screen sizes.    
'I'm thrilled that I can continue my workout from where I left off, and that the platform works across many screens. I couldn't have asked for anything better!'
Throughout this whole platform development process I learnt a lot about fitness coaching tools and what are the main pain points users that are not very familiar with technology face while working out online.